First time posting hope I'm in the right spot.
Can't connect power to the 4 story house plot. Even if I connect to power before it is built.
The building covers part of the electric pole.
The pole power attachment is turned inwards instead of facing directly forward.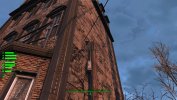 Edit: I've been two days trying to get these to have power at Taffington Boathouse and nothing.
I just tried building this at Outpost Zimonja and it has power there.
Same generators, same pole types.
Why won't this work at the boathouse?
Last edited: