Rebuilding the Commonwealth.
Staff member
Verified Builder
Vault Librarian
Knights of Spamalot
HQ Support
G'day folks, and apologies for the lateness in getting this post up.
The Announcement Video went up on the 28th
We are off to the beautiful Glowing Sea, and
XV-Versus and Yagisan's Crater of Atom Settlement
. Please use the regular option. Your entries will work with both regular and PRP versions of the settlement once complete.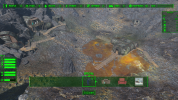 Requirements:
The settlement must have a City Planners Desk and a Beacon.
All city plans must contain all 4 levels.
To encourage MAXIMUM CREATIVITY we will not be imposing any other plot, food, water, defense, or happiness restrictions on entries. Mod added, Creation Club added, and Plot Cloned static objects and SCOLs are illegal.
Please use the Contest Holotape and check your settlement before submitting. Entries with Purple/Illegal items will be ineligible.
All entrants MUST upload their saves (Levels 0, 1, 2 and 3) to here for validation. Please follow the instructions on that page.
Please note: If you don't want to post your entry to Nexus you can post it within the Entries forum!
Your entry will be considered complete after
both
the saves are uploaded to my dropbox link and the entry is posted on either the entries forum or Nexus.
I'll update this with a link to the forum, once someone with permissions can make it.
Things to be aware of in this settlement:
There are unscrappable buildings in this location. That is intentional. Do not try scrap them and break precombines.
The cultists do not count as settlers.
The cultists beds do not count as beds.
The walls of the crater interfere with cinematic mode. Use the cinematic markers in all levels.
Competition Entries Close on 11:59 PM CST on the 28th March 2023!
Finally, Looking to get started quickly and easily in the contest? Why not try our SimSettlements 2 City Plan Contest Helper wabbajack.
It could not be any easier - it's already set up with the correct custom settlement.
In this tutorial video, I'll take you through how easy it is to get started.
Please read the
release notes here,
and for those of you that prefer to read instructions, rather than watch a video, you find them there as well.