Ahhh…baseball
Every time I go to Diamond City fond memories of my past life return. I remember the times that I spent here when it was in its former glory. I can clearly recall being at one of the 2076 World Series games. It was a chilly night; we were lucky to get the tickets, especially on the first base line. We had a few beers, hot dogs and a big bag of peanuts (of course!). The entire stadium gasped when our opponents hit a two run homer in the 9th and pulled ahead by one run. But our team didn't let us down. We finished the game with a grand slam home run, winning by three runs! The entire stadium erupted into a cheer! All this excitement - who would have thought that baseball would be erased from history by nuclear devastation only one year later. Baseball was about bringing the community together. It gave us a sense of pride as we cheered our team to victory. It was a happy time with good food, drinks and getting together with friends. Now we are left with Moe's version of the game, captivating audiences with stories of blood and gore. Maybe it's just nostalgia but this world needs the good attributes of baseball - pride, unity and a way to compete without the loss of life and limb.
Maybe I have become obsessed with the idea, but I am determined to bring pre-war baseball back to the Commonwealth. Every time I am near the old Starlight drive-in, I can't help thinking that this would be a great location for a baseball park. The space, the screen, I don't know but it just seems perfect. There is a group of scavengers that live there now. They used ASAMs to set up a small market, a few homes, a farm and devised a clever way to recycle the junk they have gathered with working machinery. However, they have been struggling as they haven't been able to attract vendors and more importantly, customers. I think I will talk to them and see if we can work something out.
Good news! A deal has been made and baseball will be returning to the Commonwealth! The current settlers will stay and continue to operate their businesses during construction and are excited to contribute with equipment and supplies.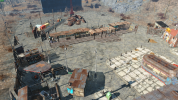 Construction has begun. We brought in dirt to build the field….a lot of dirt! We were able to get old construction equipment up and running to greatly speed up the development. We were also able to patch up the dilapidated movie screen with old signs from businesses that once thrived in the Commonwealth. Looking good!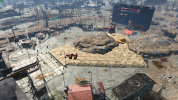 Progress! The field is complete and we have begun to build the stadium and dugouts. We were lucky to find green paint for the stadium walls - hopefully we have enough. More settlers are coming to the area and business is good!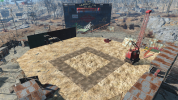 Opening Day is finally almost here! Tomorrow HQ is challenging Diamond City to the first game of pre-war baseball in over 200 years! Now we can show Moe what baseball is really about!